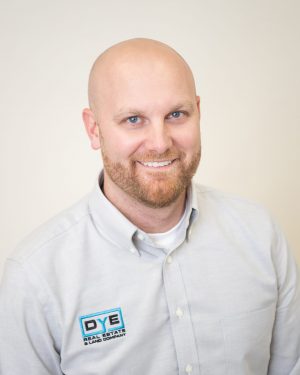 Devin has been a licensed real estate agent since 2011, specializing in farmland and rural property sales. He was the top salesperson at his previous company for 5 consecutive years prior to starting Dye Real Estate & Land Company. Devin is a member of the Realtors Land Institute and the National Association of Realtors. Whether your goals are business, real estate or personal; Devin's number one motivator is helping you reach them.
Devin is a graduate of the University of Northwestern Ohio with a degree in Business Management. He is married to his beautiful wife Kylie and has two equally beautiful daughters (Paisley and Kinsley). Devin and Kylie are raising their family on a small farm in rural Allen county. When he isn't working, he loves to spend time on the farm teaching his children to care for something other than themselves.
Devin's favorite quote is "when you know your why you can endure any how". Devin's "why" is: God, Family, and Legacy.
Testimonials
Wonderful experience from beginning to end. Worth noting that our purchase was more complicated than most since it involved a 1031 Like Kind Exchange. Devin is a knowledgeable, real estate professional who helped us find the right property and put us in touch with the right people (ex. Banker, Closing Company & Attorney) resulting in a stress free transaction.
After interviewing several real estate businesses to sell our family farm, we decided to go with Dye Real Estate & Land. Our family couldn't have been any happier with the outcome. Devin gave us excellent advice in today's market and guided us through the entire process. There marketing, communication and paying close attention to detail is top notch. So if you are looking for a company to sell your land…we would highly recommend!
Devin keep us well informed thru the process of selling our farm and was very pleasant to work with!
Devin Dye was our realtor for selling our Ohio family farm. He was extremely professional, responsive to questions and concerns and always thoughtful and understood the difficulty of selling a family farm. He provided clear real estate advice and always presented and discussed a variety of possibilities available to us and recommended choices that would not necessarily benefit him financially, but he considered a best option for us. He took time to explain offers and pros and cons that were not always obvious. I highly recommend Devin Dye as an honest and very knowledgeable real estate agent.
Dye Real Estate & Land Company was amazing to work with. Devin answered all of our questions in a timely manner and helped make our home selling experience as enjoyably as possible. My husband and I have a lot of respect for Devin and would recommend Dye Real Estate & Land Company to anyone looking to buy/sell their home.
Devin Dye | Dye Real Estate & Land Company
DYE REAL ESTATE & LAND COMPANY