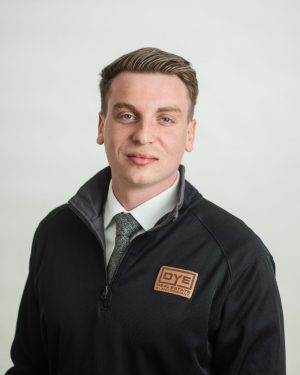 Jacob McKissick has been selling real estate since Fall of 2017 at the age of 19. Jacob attended Bath High School graduating in 2016 then received a degree of business administration in Spring of 2017 from Rhode State College. Struggling with gaining market share due to his young age, Jacob had to improve his business and out work the more experienced agents in the area. By the end of 2018 Jacob represented over one million dollars of real estate sales. Fast forward to today, Jacob represents millions of dollars in sales a year and has helped 100's of clients buy or sell residential and commercial real estate. He is one of the top agents in his market.
Jacob married his beautiful wife Jessica in January of 2021. Jacob & Jessica welcomed their son Jay McKissick to this world in April 2022. Along with their baby boy they raise their golden doodle, Libby together. Jacob's "Why" in life is his small beautiful family. That is what gets him out of bed every morning & why he works so hard for his clients.
Testimonials
Jacob is a great realtor, very responsive and knowledgeable! We were able to communicate our needs to him and he met our expectations. Our experience with Jacob and Dye Real Estate has been nothing but positive. We look forward to working with them in the future on other real estate transactions.
Jacob was the best realtor that we could have asked for. Especially being first time home owners, we wanted to make sure that we had a realtor that we could trust. Jacob did an awesome job, and Dye Real Estate and Land Company made the buying process as smoothly as possible.
Jacob was an outstanding agent. He made our process go smooth and kept us updated when and what we needed to do. Paul and I agree that this young man, Jacob knows his knowledge in real estate.
I got to work with Jacob McKissick during the sale of my condo. Let me tell you this guy has upper management written all over him. He made the entire process of selling my place as smooth as it could have possibly gone. Jacob not only went above and beyond with obtaining documents as well as communicating with the parties but he also had the more approachable personality that made the interactions that much more enjoyable. This was the first property I've ever sold and I'll be honest, Jacob set the bar high for standards. He's a very valuable asset to DYE and deserves a promotion. All in all, I would highly recommend working with this agent. Thank you for making a stressful time seem more than manageable and keeping me on track for time frames and updates!!
Jacob was very professional and helpful through the process. I would recommend him without reservation.
My selling process took longer than expected but it was on the buyers end of things…. Jacob Mike and Natalie did an amazing job with the whole process and keeping me informed and up to date on everything!!!!
Jacob McKissick | Dye Real Estate & Land Company
DYE REAL ESTATE & LAND COMPANY